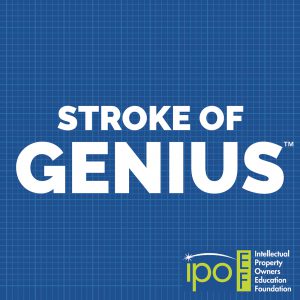 Brought to you by IPO Education Foundation and produced by At Will Media.
Join us as we explore every day inventions and discover how they came to be. Each journey dives into the stories behind the inventions — from personal struggles, to unexpected "aha" moments, to the creative determination of individual inventors. These innovations all around us wouldn't be possible without the protection of intellectual property. Hear about the creativity and inspiration behind inventions from sliced bread to modern day technology!
Tune in on Apple podcasts to listen and subscribe today!
Like us on Facebook!
Episode 8 – Patent Pending
The final episode of season 1 features three entrepreneurial inventors in different stages of the patent process.  Join us to learn about TheraV™, a wearable device that offers amputees drug-free pain management, KnoNap™, a tool to combat sexual assault, and finally, Agri-Tech Producers, LLC, a cost effective approach to clean up the environment.  Each inventor shares how they hope to make the world a better place.
Episode 7 – CAR T Cells
What if scientists could harness the power of a patient's own immune system to fight cancer?
This episode explores CAR T Cell therapy, a groundbreaking approach to cancer treatment that re-engineers immune cells to recognize and combat cancer cells. We'll speak with: Dr. Carl June, a pioneer in the field who developed the treatment in his lab at University of Pennsylvania, Dr. Stephan Grupp, who put the research into practice at the Children's Hospital of Philadelphia, and meet Tom Whitehead, whose daughter Emily was the very first pediatric patient to receive this treatment.

Learn more:
The Children's Hospital of Philadelphia's Cancer Immunotherapy Program
The Emily Whitehead Foundation
See the June.Tocilizumab patent!
Episode 6 – Haptics 
In this episode, we examine the innovative world of haptics: technologies which utilize our sense of touch.  We'll hear how a college professor is adding new life to touch screens, how one young engineer is changing Virtual Reality, and how inventors can use foundational patents to their strategic advantage.  Thanks to our guests Dr. David Parisi, Dr. Ed Colgate, Jake Rubin, & Dr. Bob Crockett.
Episode 5 – The Super Soaker®
Lonnie Johnson and his robot Linex in 1968.
You're probably familiar with the Super Soaker, but do you know the man behind one of the world's most popular toys?  In this episode, we'll explore the life of Dr. Lonnie Johnson, a nuclear and mechanical engineer, who worked on NASA space missions, energy projects for the Air Force… and just happened to also create some of the best selling toys of all time. Thank you our guests: Dr. Lonnie Johnson, Chris Bensch, Sarah Stray, Elizabeth Colton, and the Super Aqua Squad.
Episode 4 – Driverless Cars/LiDAR
Meet the IPO Education Foundation's Inventor of the Year David Hall.  He'll share his experience through a grueling race in the desert and how it birthed the autonomous vehicle movement.  Then take a forward look into the future of Mr. Hall's manufacturing plant and learn how the land surveying industry found an unexpected use for Mr. Hall's invention.  Thank you to guests Alan Ohnsman, David Hall, Jason Littrell, & Rob Noah. 

Episode 3 – Advanced Prosthetics
We'll examine inventions that are transforming disabilities into extra-abilities.  We'll hear the harrowing tale that led to one mountain climber's career as a prolific inventor, explore the relationship between science and design, and learn how advanced prosthetic devices could change music forever.  Thank you to our guests Elliot Weintrob, Paola Antonelli, and Dr. Gil Weinberg.
Episode 2 – Eye Surgery 
Take a trip through the history of eye surgery with Dr. Gary Wortz, Dr. Janus Adams, and Dr. Jim Wynne. We'll learn about a cultural pioneer, an unexpected breakthrough for LASIK, and dive into cutting edge technology for modern eye surgery!
Episode 1 – Sliced Bread 
Join our guests Paula Johnson, Dr. Jonathan Rees, Michael Ruhlman, and Robin Liss as we explore inventions at the intersection of food and convenience from sliced bread to refrigeration and a new invention that might solve the conflict between convenience and healthy living.
Sponsor opportunities available.  For more information contact foundation@ipo.org.