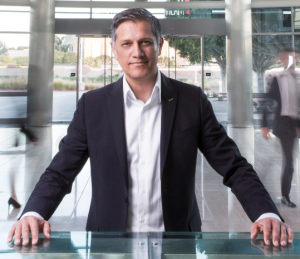 IPO Education Foundation is presenting the first IP Champion award to Joe Kiani who has shown extraordinary leadership in advocating for the value of intellectual property to the progress of innovation. Please join us at the Awards Dinner on 11 December in Washington, DC to honor and celebrate Mr. Kiani!
About Joe Kiani
As founder, Chairman and CEO of Masimo, Joe Kiani runs one of the most admired medical technology companies in the world. He and his company are focused on solving the unsolvable problems plaguing patient monitoring. Under his leadership, Masimo has grown from a "garage start up" into a successful publicly traded company (NASDAQ: MASI) employing more than 4,000 people worldwide. For over 25 years, Masimo has been focused on improving patient outcomes and reducing the cost of care by taking noninvasive monitoring to new sites and applications. Masimo's technology is available directly and through leading OEM patient monitoring manufacturers and monitors over 100 million patients a year. With over 600 patents, innovations include rainbow SET Pulse CO-Oximetry™—the first blood constituent monitoring platform to measure multiple blood constituents noninvasively that previously could only be measured invasively. Masimo is currently developing a technology that shows promise in finding and facilitating the removal of cancer cells in mice with less harm to nearby, healthy tissue. Masimo hopes to begin clinical trials in humans in the next few years.
In 2012, Kiani founded the non-profit, Patient Safety Movement Foundation (PSMF) with a commitment to eliminate preventable patient deaths in US hospitals and significantly reduce medical errors worldwide by the year 2020 (#0x2020). In February 2018, the hospitals that had joined Patient Safety Movement reported 81,533 lives saved annually.