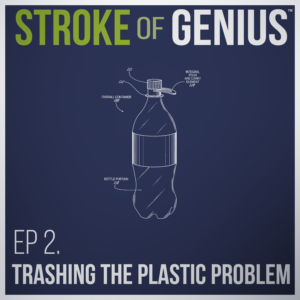 IPO EDUCATION FOUNDATION PRESENTS SEASON 3 EPISODE 2 – TRASHING THE PLASTIC PROBLEM 
Unlike other kinds of waste, not all plastics can be recycled and often end up in landfills or in the ocean. In this episode of Stroke of Genius, hear how one field trip to a recycling center sent students Miranda Wang and Jeanny Yao on a lifelong quest to move from recycling to upcycling. Join us on your favorite podcast platform as these two young inventors tell their story about how they are using a patented system to turn unrecyclable plastics into valuable materials.
Stroke of Genius Season 3 is available on all major podcast platforms including Apple, Google, and Spotify.
A special thank you to our episode sponsor Schwegman, Lunberg & Woessner.