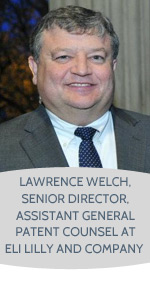 The Global Dossier and Other IP5 Projects Promise to Improve Global Patent Quality
Lawrence Welch, Senior Director, Assistant General Patent Counsel at Eli Lilly and Company, has been working to create a more harmonized patent system on behalf of IPO for more than a decade. Long-focused on the goal of harmonization, IPO initially launched Mr. Welch on this mission in 2003, based on his prior experience with negotiations on the Patent Cooperation Treaty (PCT). As a representative of the Trilateral Industry group—which includes AIPLA, IPO, the Japan Intellectual Property Association (JIPA), and Business Europe—Mr. Welch has been meeting with the heads of the European Patent Office (EPO), the Japan Patent Office (JPO), and the U.S. Patent and Trademark Office (USPTO), together also known as the Trilateral, ever since. "What we've seen since 2003 is very impressive," says Mr. Welch. "The offices have been receptive to the ideas that the users have had and many of them have been implemented."
These ideas include the Common Citation Document, launched in 2011, which allows users to view citation data for a common patent family across all five major IP offices, and the Common Application Format, agreed in 2007, which allows an applicant seeking to file in all five offices to use a single application. (The Trilateral group was expanded to the IP5 after the Korean Intellectual Property Office (KIPO) and the State Intellectual Property Office of the People's Republic of China (SIPO) joined. They first began meeting with the other Trilateral offices in 2008. In 2012 the IP5 Industry group was formed, and began meeting annually with the IP5 heads).
Although such improvements represent important steps toward global patent harmonization, the IP5 has recently achieved some even greater efficiencies with which many users might not yet be familiar. Perhaps most notable is the Global Dossier project, which became available through the USPTO in November 2015 and is also up and running at the EPO, KIPO, and SIPO. Japan has yet to launch its portal, but is expected to by early 2016.
The Global Dossier is one more leap on the road to more comprehensive patent harmonization and improved patent quality—a goal that Mr. Welch stresses would reap benefits far beyond the patent world. "To the extent that we have [a harmonized] system, this would provide greater incentives for those investing in R&D to come up with solutions to unmet needs in the world," says Mr. Welch. "That benefits everyone."
Innovator Insights spoke with Mr. Welch to learn more about what the Global Dossier is, where that and future IP5 projects stand, and how harmonization efforts benefit not only patent users, but society.
Can you first explain what the Global Dossier is and how it works?
The Global Dossier is a project of the IP5 patent offices that will have two major components. First, there is the "passive" component, available now, which consists of a portal by which you can look at all the publicly available documents filed in all of the IP5 offices—the EPO, JPO, KIPO, SIPO, and the USPTO—for the same case. This includes what has been filed, what rejections have been given, what responses have been made, and what art has been cited in each of those offices.
The other feature that's really amazing for users is that if a document—for example, an office action—is not written in your native language, you can hit a button and get a machine translation. The translation software is developed by each office individually, and it's not always perfect, but it is always being improved and getting better and better. That's a great advancement for all users.
For the [IP5 patent] offices, the Global Dossier will be extremely important.
The EPO was the first to make this tool available. You could view documents in the Global Dossier on the EPO's site in April, 2015 or earlier. It didn't become available in the U.S. until November 23, 2015, but the users in the U.S. have so far been pleased with the quality of the information available. It's useful if you're just looking at the strength of a patent across the world, if you're doing due diligence, or for licensing and litigation purposes—it's great for users of all kinds. It hasn't been used extensively yet, and Japan's portal is still not up, but I think this will be very important over the next year. And, for the offices, the Global Dossier will be extremely important as it will allow for examiners to see the work on the corresponding files in the other IP5 offices.
The "active" component, which doesn't yet exist, is a series of projects we're working on in the IP5 process that involve ways to actively file documents across the five offices. The pilot projects may include providing this capability for documents such as change of address, for example. As users, we would like to be able to upload a document in one office and with a few clicks, file that same document in the other offices. There are some legal and technical issues that would need to be overcome to do this; in some offices you can't file documents unless you have local counsel, for example. So issues like that would need to be resolved.
Other aspects of the active component should include the provision of timely updates to users on status or file wrapper changes to all IP5 family dockets, and standardization of the names of the applicants.
What is the ultimate goal of the Global Dossier?
I believe that one of the most important aspects of the Global Dossier is that it will lead to higher quality of patent prosecution across the globe. In these five offices, to the extent that the patent prosecution is taking place simultaneously—and that's a big if right now—examiners can look at the other offices and make sure that all the references are being cited. This should lead to higher quality patents issuing from all five offices. It's not exactly collaborative examination, but it will be close to that.
How likely is it that the offices will get to a place where these applications are being handled simultaneously?
All of the offices are working on their backlogs and trying to improve the speed at which they're examining. There are already methods available to cut timing down, such as the Patent Prosecution Highway (PPH), which allows you to take the positive results from one office and speed up prosecution in another. I think there's a good chance that the speed of prosecution will improve in all five offices, particularly for applicants who choose to make it move faster by using the procedures that are available. Those kinds of initiatives will lead to prosecution happening more contemporaneously in all five offices.
What are the next steps?
On the passive component, it's there—we just need to see how it gets used now. I hope that, more and more, it will be used by examiners during prosecution.
Another thing on the "to-do" list for the offices is to find a way to allow an applicant to cite art into the Global Dossier that will be considered as satisfying the obligation in all five offices. Particularly in the U.S., there are some legal hurdles that will need to be overcome before that is possible, but that would be great for applicants. It would provide a simple way to satisfy an applicant's duty of disclosure and it would lead to higher quality across the globe, because it would mean that all the relevant art is cited in all five offices. The USPTO is looking to see what procedural and regulatory changes would need to happen in order to allow an applicant in the U.S. to satisfy their duty of disclosure by citing art in the Global Dossier.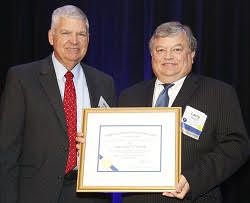 Global harmonization efforts are notoriously difficult—why and how was the Global Dossier project successful?
There were several factors I think. First, the heads of the offices were supportive of this, and we're grateful that was the case. There has also been recognition that you can't do everything all at once. These procedural steps, like the Global Dossier, can be done using current technology and without making major law changes. Starting small with projects that are clearly achievable is important. Also, we've been talking for over a decade and we now know each other well enough that we're able to be more frank in the discussions. That's helped a lot in progressing this. Small steps in the beginning that lead to bigger results have been the key.
What other projects are you working on with respect to procedural harmonization?
There are three other areas we'd like to harmonize procedurally. One is the Unity of Invention (UOI) concept, which has to do with how many inventions are disclosed in a patent application that's filed. The process by which the patent office decides how many inventions there are and what searching they will do and how much work is involved needs to be harmonized. Most patent offices of the world use the UOI standard, which talks about a common inventive concept to determine which aspects of the disclosure can be examined in the same application. Any remaining subject matter will be examined in separate divisional applications. The U.S. employs a different concept called restriction practice which often results in different groupings of subject matter and in filing different divisional applications. Under the Patent Cooperation Treaty (PCT), the U.S. has agreed to apply the UOI concept, but we need more procedural harmonization generally. Even in countries that do use the UOI standard, they're not all coming to the same conclusions on how many inventions are present. All five offices are looking at this issue. The U.S. restriction practice is the outlier and the USPTO has agreed that, going forward, they will apply UOI, but right now they will only apply UOI on PCT applications. It will take them longer to get to that point with other applications.
The second issue has to do with written description. This has to do with the standards that each of the offices apply in deciding whether you have properly described your invention to a person of ordinary skill in the art so they know how to make and use the invention. There have been some studies done by the Japan Intellectual Property Association (JIPA) where they show that there are different results in different offices for the same disclosure. They also show that, for example in the chemical/ pharmaceutical areas, there are more rejections for written description than in other fields. You could argue that this is more than a procedural issue because aspects of substantive patent law are involved as well, but that's a project under the procedural examination category right now.
There is always concern about firms losing work, but overall companies end up filing more cases and firms end up having more patent prosecution work down the road.
The third project is to come up with a common system for citing prior art, which I already alluded to earlier. This might be the most exciting project as far as near-term benefits to users. It is difficult for applicants filing across the globe to make sure they've cited all of the appropriate prior art in all the offices, so if there was a system where we could cite once and that would be suitable for all the offices, it would be a huge benefit to users across the globe.
In that context, it would also be great if other offices beyond the IP5 had access to that system. For example, right now, India has a very onerous requirement that you must cite all the art that was cited in all the corresponding applications all over the world, even though it may be duplicative or difficult to find, and that could end up being a trap for the unwary. You could end up having patent challenges based on technical violations of that rule.
For now though, this option is not even available within the five offices, so it will take time. The goal is to first establish such a system within the five offices and then to open it up eventually to non-IP5 offices.
What are some of the "bigger," more substantive harmonization projects that are in the works?
There are two major initiatives.
After the passage of the America Invents Act in the U.S., when the U.S. changed many aspects of its law to be more similar to the global standard—particularly with respect to moving to a first-inventor-to-file system—the Trilateral user groups (IPO, AIPLA, JIPA) said perhaps we can revisit some of the other issues that have fallen by the wayside in the past. Many of these issues seemed too difficult to harmonize because the U.S. operated under a first-to-invent system. So the first initiative was that we came up with a document identifying a limited number of issues. These include the grace period and non-prejudicial disclosures (the idea that a disclosure from the inventor prior to the filing date would not bar patenting as long as you file within a certain period). In the EU in particular, there is not much of a grace period. Another issue is how to treat applications that conflict—for example, how do you treat the prior art effects of an application filed prior to yours, but published later? There are different rules that apply in the U.S., EU, and Japan. In the U.S., applications are supposed to be published within 18 months of the filing date, but the U.S. has an exception for applications filed only in the U.S. and not abroad. Those don't have to be published at 18 months. All of the members of the user community, and certainly the other offices and user groups, would like to see that exception removed. IPO has been in favor of removing that exception. It would take a law change in the U.S. to do that though, not just a procedural one. Lastly is what to do if someone has begun serious preparations to commercialize an invention before the filing of your patent application—do you get prior user rights? The Trilateral countries and the four user groups (AIPLA, IPO, JIPA, and Business Europe) came up with an elements document where we looked at these issues and what the policies are behind them in each country.
Secondly, in addition to that document, at WIPO, there has always been a group of countries (known as the B+ group) that have been in favor of harmonizing the patent laws, but they've run into problems because some of the developing countries have had concerns. They have now also put together a document like the elements document and we've spoken with them and are going to meet with them again in 2016. It turns out that there's quite a lot of overlap in terms of what we agree on and what we have yet to agree on. We're going to see if we can narrow the differences even further during our meeting.
Some attorneys may be concerned that projects like the Global Dossier will result in less work for them—what is your response to that?
Obviously, a more efficient system means that there is no duplication of work. This may mean if you're a big company and you're able to electronically file in several offices at once, you don't need to hire law firms to do the administrative work, because you can do it in house. In the short term, some firms may lose that administrative work. In the long term though, they're going to get more of the higher quality substantive work, such as patent prosecution, responding to office actions, drafting applications, and providing strategic advice. That won't go away. Our experience has always been that, when you have these procedural improvements, like the PCT, for instance, there is always concern about firms losing work, but overall companies end up filing more cases and firms end up having more patent prosecution work down the road. It certainly does not make sense to say let's keep a less efficient system in order to keep certain types of personnel employed by outside firms. Ultimately, the goal is to have a system that is most efficient for everyone and leads to higher quality patents, less duplication of effort, and less chance for error as information is kept in one place.
How will the Global Dossier and other harmonization projects benefit average consumers?
If you have uniform and predictable IP rights, that's going to provide the right incentives for people to spend the resources to find solutions to unmet needs in society, and that benefits everyone.
IPO has long advocated for a system that provides for uniform, objective, predictable, and cost effective acquisition and enforcement of patents globally. To the extent that we have such a system, this would provide greater incentives for those investing in R&D to come up with solutions to unmet needs in the world. If you have uniform and predictable IP rights, that's going to provide the right incentives for people to spend the resources to find solutions to unmet needs in society, and that benefits everyone. Higher quality, more predictable patents also might result in less litigation, which would be good for society as a whole. But in general, it's a way to provide incentives for solutions to unmet societal needs. I believe that the more you can harmonize the laws and make sure on a global basis we'll have predictable IP rights, the better it is.
Also, this is a global integrated economy now and it's extremely common for inventors to collaborate or use the Internet, so many inventions are cross-border and most are commercialized globally. Having a uniform global patent system that provides predictable results for everyone should provide the right incentives for the future.