Intellectual Property Education Is Empowerment
Marissa Stillittano, Ed.D & Adam Daley
Science Resource Teacher (TOSA) at Torrance CA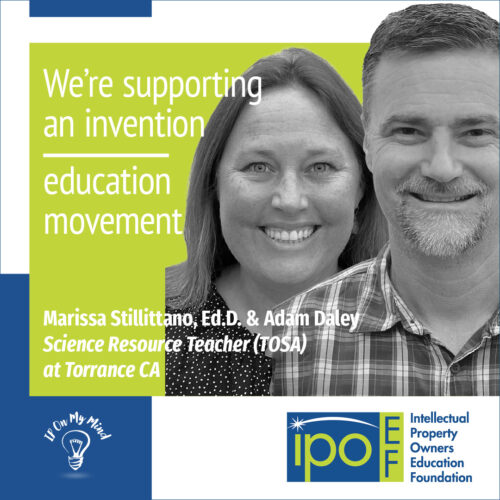 With the invention education ecosystem growing exponentially each year, educators are looking for ways to bring their invention programs to the next level. This group of educators include Marissa Stillittano and Adam Daley, Science Resource Teachers on Special Assignment (TOSA) for the Torrance Unified School District in Torrance, California and leaders of the South Bay Regional Invention Convention (SBRIC). For Stillittano and Daley, intellectual property (IP) education seems like a natural addition to their invention education curriculum.
Prior to the COVID-19 pandemic, Torrance Unified School District frequently hosted STEAM and invention fairs. When education transitioned to remote learning, teachers, families, and students alike were still eager to find ways to participate in a STEAM and invention fair from home. Stillittano and Daley thought that an invention fair was the perfect activity for this time. While many students across the world dreaded going to online lessons, students across the Torrance Unified School District continuously attended Stillittano and Daley's virtual office hours to discuss the invention process. Nearly 70 students submitted inventions during the virtual invention fair. "A lot of these kids may not have a sport or other activity that they're interested in, but inventing is their jam!" says Daley.
As the South Bay Regional Invention Convention grew, student inventors were invited to higher levels of competition, including the California Invention Convention, Invention Convention U.S. Nationals and Invention Convention Globals. SBRIC students continued to excel in these competitions, and with that success, came media attention – from local newspapers, to state news programs, and even to The Tonight Show with Jimmy Fallon! With the increased attention, many parents — some of whom work in STEM fields, themselves – realized that the exposure could leave their students and their ideas vulnerable. 
"Until I saw the extent of the success our students had, intellectual property education had never crossed my mind," says Daley. Prior to working at the Torrance Unified School District, Adam played in a band during the era of online pirating. "In my experience as a musician, protecting my ideas was always in the back of my mind when I was writing music, but protecting the ideas behind student inventions was something more unfamiliar to me," says Daley. "Now that we're getting emails from parents asking how to protect their students' ideas, we want to be able to know how to turn the parents in the right direction."
There seems to be a bit of magic in the invention education world, where young students are flocking to inventing opportunities in droves. "Kids have no fear. They haven't been told they can't do something yet," explains Daley. "Their ideas show that they're willing to take risks that even middle school and high school students may not do." With massive amounts of creativity and a lack of fear, young students are seeming to be more willing to try to bring their ideas to life. "Kids are a special community of people," says Stillittano, "and they have the best ideas out there." With more ideas being brought into the world, there is a growing need for teachers to know how to teach intellectual property protection to their students.
"It's an intimidating process," admits Stillittano. There are many moving parts involved in pursuing intellectual property ownership, and the process can feel overwhelming if it's not carefully presented. Both Stillittano and Daley are eager to learn more about intellectual property and to learn how intellectual property education resources can be offered to educators. With organizations like the IPOEF and the United States Patent and Trademark Office (USTPO) Office of Education seeking to demystify IP, educators like Stillittano and Daley couldn't be more thankful. When presented with the idea that intellectual property can  easily be taught in the classroom, Stillittano and Daley are eager to learn how. "Teach us!" they exclaim in unison. 
For intellectual property resources for educators, check out IPOEF's intellectual property curriculum and lessons here.