Intellectual Property Education Is Empowerment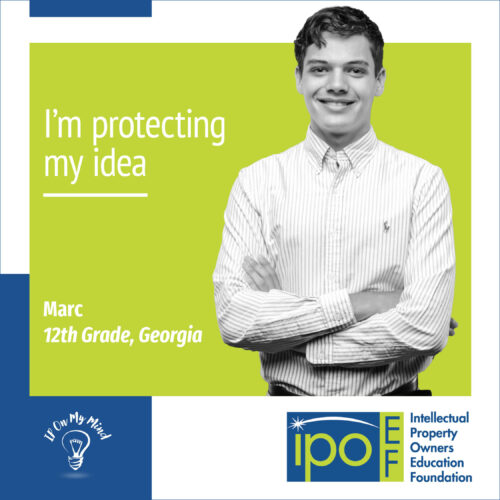 "My biggest passion has always been to make something really meaningful," says Marc van Zyl. Born in South Africa to a family who is passionate about engineering, van Zyl is currently a high school senior living in Atlanta, Georgia. For van Zyl, much of the meaning he has created in life has revolved around progress – a drive to learn, innovate and improve. Van Zyl's passion for progress can be found in many areas of his life, from his hobby as a voracious reader, to his practice as a second-degree black belt in karate, to his experience as a student inventor and, soon, his upcoming adventure as an engineering student at Georgia Tech. Through his journey to create something meaningful, van Zyl has become increasingly interested in intellectual property, a field that he believes inspires progress.
When van Zyl was in eighth grade, he created one of his first inventions, an easy-to-use bluetooth spirometer that sends ventilation data to cloud-based storage with the click of a single button. While researching information about spirometers, van Zyl came across patents for previous spirometer iterations. By looking at patents, van Zyl was able to learn about the essential components of a spirometer and what did not work in older spirometers and was able to ensure that found alternative ways to solve problems without infringing upon other inventors' intellectual property. Because he was introduced to IP through this invention, van Zyl considered patenting this invention, but ultimately chose not to, but his IP journey was far from over.
Van Zyl's most recent invention, Athegia is a "revolutionary habit-changing at-home medical monitoring system for senior citizens." In the years since inventing his bluetooth spirometer, the medical technology marketed was flooded with many accessible and affordable medical devices. Rather than create another bluetooth medical device, van Zyl opted to create something that would add value to the growing medical technology market. His solution, Athegia, is a platform for senior citizens to easily collect all their health data and to motivate them to routinely utilize their medical testing devices. After creating his invention, van Zyl submitted Athegia to the K-12 InVenture Prize at Georgia Tech and subsequently competed in Invention Convention U.S. Nationals 2022, during which he was awarded the Patent Application Award presented by Cantor Colburn Atlanta. As part of the Patent Application Award, van Zyl received comprehensive intellectual property law services from Cantor Colburn Atlanta, including guidance through the patent application process. Athegia is currently patent pending. 
Van Zyl found the patent process incredibly enlightening. The process pushed him to really look at what makes his invention unique from other similar products. "While working on the patent application, the patent attorneys at Cantor Colburn and I had to really distill down the core values that made my invention truly unique. I found it really interesting to go through and think, Was this the really important piece?, and Is this what's necessary for the creation of this device?" While the patent application process was lengthy and incredibly detailed, van Zyl credits the Cantor Colburn patent attorneys for helping him be able to successfully traverse the unfamiliar territory. While the patent attorneys handled the legal details, van Zyl was able to get to know his invention on a deeper level and learn how to communicate the importance of his invention.
Van Zyl pointed out that the patent application process will also be incredibly helpful when he is ready to take the next steps with Athegia. "Even though I had to go through this process for the patent application, for me, as an inventor, and potentially a businessman, now that I have the information on what makes my invention unique, I get to think about how I can leverage that," he explains. "It was quite an insight to be able to look at my project with a completely new lens." 
Through his patent application experience, Van Zyl has come to realize the importance of intellectual property. He compares IP ownership to physical property ownership, a valued experience that people are more familiar with. "Historically, when physical property is owned by tons of people or no one in particular, that property tends to be left to crumble – no one feels compelled to improve it," explains van Zyl, "When someone can own something and that thing matters to that particular person, they nurture it. To me, intellectual property ownership is very much the same." His newfound interest in intellectual property mirrors his passion for progress. "Intellectual property incentivises people to not just come up with ideas, but to nurture, create value and bring those ideas to fruition because that idea is truly their own," van Zyl says.
Van Zyl looks forward to finding out whether his patent for Athegia will be approved so he can share the resource he has created while protecting his ideas and intellectual property. From his experience, van Zyl has learned two prompts that every IP creator should ask along the way: 
Can you prove that your idea is unique?
"You can't start with an idea and just decide to patent it. You have to start with a problem that really exists so that the idea you eventually patent will have true value to other people," explains van Zyl. "Once you're further along in the process, don't forget to do the research. To both respect someone else's ideas and to advance your own, there's going to be a lot of research to do to make sure your idea is unique." 
Van Zyl's mission for progress is far from complete and he looks forward to his intellectual property ownership and future studies that will support him in his journey. While he continues to work on Athegia and other contributions to the health technology field, he champions other students to also explore invention and intellectual property education. As van Zyl simply says, "Innovation is the future."