Intellectual Property Education Is Empowerment
Damian Earley
12th Grade, Ohio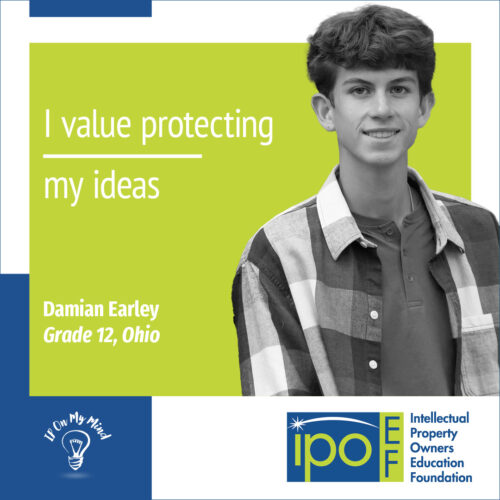 "The whole experience felt very surreal," says Damian Earley. "I would never have imagined getting a patent – I didn't even fully know what a patent was when I started inventing. I just knew that I wanted to invent." Damian has accomplished what most adults only dream of. He's a serial inventor and a patent owner, all before earning his high school diploma. Damian Earley, a rising senior high school student from Columbus, Ohio, recently received a patent for his invention, The Garbage Lot, a weighted base that connects to the bottom of recycling and trash bins that prevents them from tipping over. Through his personal journey, Damian has been able to learn about intellectual property (IP) hands-on and now hopes his journey can inspire the next generation of student inventors and entrepreneurs.
Damian, a longtime inventor, has been inventing through the Ohio Invention League and Invention Convention Worldwide since second grade. Through the years, he's created a wide variety of inventions from prescription delivery drones, to pet care technology, to an assistive device for piano players. Damian's experience as an inventor leveled up in 2020, when, as an eighth grader, Damian invented The Garbage Lot after noticing how garbage bins near his home often fell over. "I was walking home from the bus stop in seventh grade and I noticed how all the alley garbage bins were falling over and spilling waste," Damian explained, "I decided there had to be some way I can help reduce the amount of waste that comes from these bins." 
After competing in the Invention Convention U.S. Nationals 2021, Damian won the Patent Application Award, Presented by Cantor Colburn Detroit and General Motors. As part of the Patent Application Award, Damian received comprehensive intellectual property law services from Cantor Colburn Detroit, including guidance through the patent application process. "When I initially received the Patent Application Award, I was very new to the intellectual property ownership process, so I had no idea if or when I would actually get a patent. I knew it would be a long process," says Damian. He, fortunately, didn't have to worry about the application procedure for long, as the patent attorneys at Cantor Colburn were able to guide Damian through the entire experience. Damian met with Cantor Colburn patent attorneys over video call to talk about his invention and learn more about the patent application process. Over a year and a half, Damian sent information and diagrams for The Garbage Lot to the Cantor Colburn team, who helped Damian effectively communicate what made his invention unique. 
On January 31, 2023, Damian was granted his utility patent for The Garbage Lot, which protects how his invention functions. "My invention provides a practical and simple solution – it's something we can easily picture in real-world applications," explains Damian, "I think this is what made my invention unique and so appealing to the Invention Convention judges and later made it patentable."
After his experience, Damian notes that intellectual property education would be incredibly valuable, especially for older students. Within intellectual property, there are a number of career paths that young inventors would be able to explore. He hopes that intellectual property could be adapted into the school curriculum, allowing teachers, themselves, to understand intellectual property and to have the structure to educate students on the subject. In the meantime, Damian says that research is something that other future inventors should focus their time on. "Research helps you find how similar your idea is to other people's ideas so you can make sure that your idea is unique enough to be patentable before you put the time, effort, and money into it," says Damian. He also recommends that students find organizations that will help guide and fund them through the patent application process to help make intellectual property ownership more accessible for young people.
"Intellectual property holds a lot of value to me now," says Damian, "I don't want someone else stealing my idea because that does happen a lot. It's nice to know that my idea is mine, I have all the rights to use it, and no one can take it away from me."
In the future, Damian hopes to pursue a career in engineering and hopes to use the skills that he's learned through invention to help as many people as possible. "Ever since I started inventing, I've had a love for engineering," Damian recalls, "Recently, I've decided that I might want to be a civil engineer because I'd get to use my designing abilities that I learned through inventing to create solutions to problems with bridges, sewage systems, and transportation systems in big cities. I'd also like to use my skills to be an entrepreneur." Damian hopes to get a jumpstart on becoming an entrepreneurial engineer with The Garbage Lot, "I want to license my invention to a company. Even though I don't need the patent to license my invention, it does protect my ideas more," Damian says. "I want to see it in the real world because it would just be so awesome to see my idea out there."