Intellectual Property Education Is Empowerment
Cynthia Brawner
Teacher, Chicago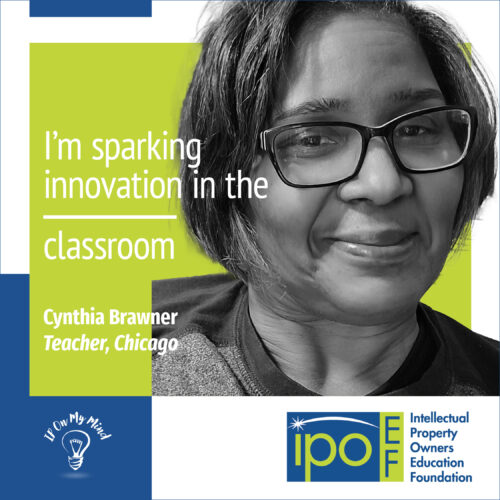 "If no one gives it to you, figure out how to get it. Figure out how to be a mover and a shaker." This mantra has carried Chicago Public Schools teacher, Cynthia Brawner, from her childhood to her experience as an educator. A veteran teacher, she imparts this lesson upon her 3rd grade students through invention education and intellectual property (IP) education to learn new applications for their learning and to feel empowered to own their ideas.
With an interest in arts and communications, Brawner studied journalism during her undergraduate education, but found that did not feel like she was making the impact that she wanted to in the world. Upon her mother's suggestion, Brawner turned to teaching, starting in early childhood education and then subsequently moving up through the elementary school grades. "I love the arts and I love writing; I just found that I have a gift for education," says Brawner of her career journey. Today, she is a third grade teacher at Wadsworth STEM elementary school with a predominantly Black student population in the Chicago community in which she lives and worships. Teaching students with a similar cultural background to her in her own community, Brawner knows intimately the needs of her students.
One evening, while watching the news, Brawner was intrigued by a feature on student inventors. She was amazed that these young scholars – many the same age as her own students – had been able to apply lessons from their classrooms to create inventions to solve issues that they experienced in their own lives. While she was empowered by the feature, she was also disheartened to see that none of the students looked like her or the students in her classroom. "In our culture, there are a lot of inventors, but we don't talk about it. In our culture, there are a lot of designers, but we don't talk about it," Brawner says, referring to the lack of acknowledgement of Black representation in a variety of fields. "I made it my personal mission to introduce my students to whatever will advance them in the future." Within a week of watching the invention education feature, Brawner brought lessons of invention to her students and soon connected with Chicago Student Invention Convention, a program that brings applied STEM invention learning to K-8 students in the greater Chicago area.
Since watching the invention education feature nearly seven years ago, Brawner has brought expansive invention education and STEM education programs to her students, including inventing, coding, podcasting, video recording, CAD (Computer-Aided Design), intellectual property and, soon, artificial intelligence. Brawner values taking every professional development opportunity that she can to be able to educate herself on the expanding interests of her students and the expanding needs of the world. "I would encourage teachers or anyone who wants to work with children to learn as much as they can know and to grow with students as they learn more," Brawner says. She credits her ability to learn so much to the many free resources that are available to teachers, including Google certifications, Adobe and the International Society for Technology in Education. Thanks to her drive to expand her own knowledge, Brawner's students not only learn those same hard STEM skills, but also soft skills like problem solving, collaboration, resilience, critical thinking, risk taking, research skills, perseverance, receiving criticism and public speaking.
Along with learning the skills for creating ideas, Brawner ensures that her students also equally value protecting ideas. "I tell all my students to put their name, the date and the location on everything," Brawner says. "If you don't do anything with this idea now, but come back to it 10 years later, and someone taps in and tries to say they had the idea first, you have proof of your idea… I'm big on having my students protect whatever they do."
To introduce formal means of intellectual property ownership, Brawner presents to her students an episode of Shark Tank in which a young inventor discusses the patents she has for her product to demonstrate a real-world scenario in which a young person has sought to protect her ideas. Brawner also guides students through a simulation of the patent application process so students can understand the steps that an inventor must take before receiving a patent or even submitting an application. Once students see an example of IP ownership, they feel more empowered to protect their own ideas even on a smaller scale. While young students may not have access to formal intellectual property ownership, like patents, they learn that writing down all their ideas along with their name, date and location can be a first step in protecting ideas they may want to expand upon in the future. Brawner
also recommends that educators learn as much as they can about IP and that they have the information readily available for students' families. "Families are busy, just like we are, and students are busy too," Brawner explains, "Learn as much information as possible to give the families as much information as possible so that it's not a stressful task, but something that's rewarding."
Though creating and protecting ideas for solutions to life's problems may seem daunting to students and to the educators who teach them, it is nevertheless worthwhile to press on and learn. "My advice for teachers, educators or anyone working with children: Be that go-getter. Even if a student's idea doesn't look like it's going anywhere, be their cheerleader if they're passionate about it. I would encourage schools to consider invention education and intellectual property education – even if it's just as an extracurricular activity," says Brawner, "My advice for students: There's no wrong way to solve a problem; we learn from failure. Go out there and tackle it!"