Intellectual Property Education Is Empowerment
Ifeoma Okolo and Austin Ewing
10th Grade, Chicago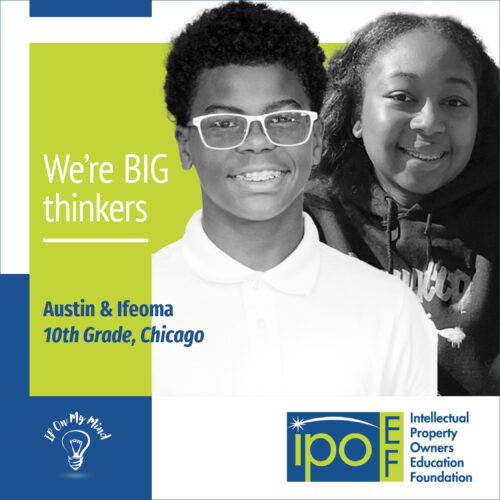 Ifeoma Okolo and Austin Ewing, tenth-grade students from Chicago, Illinois, are actively learning about intellectual property (IP) through their experience as student inventors and budding engineers. Together, Okolo and Ewing invented Ambrosia Auto: Engineering for Social Justice, a solar-powered, self-driving car with a roof-top garden that drives to food desert communities to deliver fresh produce to community members. The team has brought their invention to the Chicago Student Invention Convention, Invention Convention U.S. Nationals, the Ten80 STEM Challenge and the National Society of Black Engineers (NSBE) Convention.
Prior to creating their invention, Okolo and Ewing didn't have much experience with intellectual property. Okolo recalls learning about patents while doing projects on historical figures in elementary school. During one particular project, Okolo did research on Charles B. Brooks, a Black American inventor best known for his patented innovations to the street sweeper. Through this research, Okolo found old photocopies of Brooks' patents, introducing her to the concept of being able to attach your name to your creations. Ewing had a similar experience. While working on a homework assignment, Ewing read about patents and initially thought that it protected information or knowledge – something that only someone with PhD in a field like Biomedical Engineering or Theoretical Physics would ever achieve. After talking to his parents, however, Ewing realized that patents protect a broader concept – ideas. Everyone can have an idea, so anyone has the potential to pursue a patent.
Okolo and Ewing are still learning about intellectual property, but they find the concept incredibly intuitive. They compare the concept of IP ownership to ownership of physical property, an important achievement in the United States. These students see ownership of ideas as no different. "Owning intellectual property is like owning anything else, like a car or a house. What you own is yours," says Okolo. Ewing agrees, "Creativity isn't a tangible item that you can physically protect like your car or house. Even though a person can't take away your creativity, they can steal the product of your creativity and people should know that there is a way to protect that."
While this team of young inventors have the unique experience of creating an invention, they encourage all students to learn more about intellectual property, no matter where their interests lie. "Even if a student doesn't do what we did and make an invention and enter it into competitions, intellectual property is still valuable for them to learn," says Okolo, "All knowledge is valuable to have. Teaching students intellectual property in schools would encourage them to push boundaries and make them be less afraid to try new things." 
Ewing notes that it's especially important to expose students to IP when they are young. "The younger people are, the more creativity they tend to have, so it's important that these students know that they can get something out of their ideas," he says. "It's important for them to know that their ideas are so important that they can actually be protected because it will encourage them to harness their creativity and actually go far with bringing their ideas to life."
Both students stress how important learning is to them and that many students their age crave new transferable skills and knowledge to apply in real-world scenarios. "Sometimes adults underestimate the minds of young people and think that young people are only in school to get good grades. But what a lot of us really want to do is learn," explains Ewing. "If educators teach students real-world skills and knowledge, like intellectual property – even if it's something that's not traditionally or typically taught – it will ultimately help students in the long run." Okolo agrees, "Part of a teacher's job is to help their students learn, grow and develop into people who can think for themselves by giving them skills to use in the real world." Intellectual property is just one way to do this.
For other students hoping to get started on inventing and learning about intellectual property, Okolo encourages, "Don't be afraid to make it happen and don't be afraid to ask for help." 
"Don't sign it off as something you can't do before you even think about it," adds Ewing, encouraging both educators and students to frame inventing and intellectual property ownership as achievable pursuits. 
While Okolo and Ewing, themselves, still have more to learn about intellectual property,  the experience of creating an invention has inspired them to aspire towards IP ownership. For now, however, the pair is learning as much as they can and continues to work on refining and improving their invention, but hope to pursue formal IP ownership for Ambrosia Auto in the future.