How the USPTO and Companies Like HPE Are Helping Independent Inventors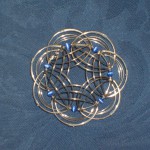 When Zbigniew Doroszkiewicz came to Salt Lake City, Utah from Poland as a political refugee 30 years ago, he was at first afraid he had made a mistake. "Salt Lake City was a cultural shock," says Mr. Doroszkiewicz, who was raised in a multicultural family of artists. "It was completely flat, had no art, and there was not any kind of connection with it for me. That was very hard." But soon, Mr. Doroszkiewicz found his way to San Francisco, California, where he finally had the freedom to focus on his art, and in particular, his creation of a unique wire toy mandala (pictured), inspired by his great grandfather's love for the mandala—a spiritual symbol of the universe in Eastern religions. Mr. Doroszkiewicz's mandala is three-dimensional, and allows the user to create innumerable shapes—it can be transformed into and used as everything from various types of jewelry, to coffee cup and wine holders, to a napkin ring or Christmas ornament. "The best way to change, use, and enjoy all forms, is to go deep into your own imagination," says Mr. Doroszkiewicz on his website.
But once he made the decision to pursue selling the mandala, Mr. Doroszkiewicz faced a battle he had not initially anticipated. He was told he needed a patent to deter copying of the mandala, but the cost of a patent attorney was too high. Naturally inclined to do things on his own, Mr. Doroszkiewicz set out to apply on his own, but was ultimately met two years later with a final rejection. That was where Scott Pojunas, Patent Development Director at Hewlett Packard Enterprise, Dan Ovanezian, Partner at Lowenstein Sandler, and the USPTO's Patent Pro Bono Program came in.
Under the 2011 America Invents Act, the USPTO was encouraged to "work with and support intellectual property law associations across the country in establishing pro bono programs designed to assist financially under-resourced independent inventors and small businesses." As a result, the USPTO has developed a network of regional partnerships with pro bono legal organizations, which now covers all 50 states.
Here, Mr. Doroszkiewicz and Mr. Pojunas describe their respective experiences working with one another, and with the Patent Pro Bono Program.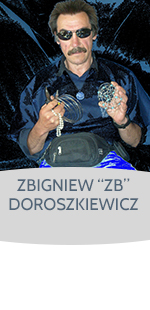 Zbigniew "ZB" Doroszkiewicz
Do you consider yourself to be an artist, an inventor, or both?
I have been an inventor since I was born. I've always invented and discovered things around me, but I also was born an artist. I took no art courses and had no formal schooling; I became an artist by accident. But of course, when it comes to creating art, it's very similar to invention—you find something new that's based on something already existing in nature, or that you have observed before, and then you upgrade it to something better.
When did you come to the United States?
I came here almost 30 years ago. I moved from Europe to Salt Lake City, Utah because that is where my sponsor lived—I was a political refugee. I had a choice of all the Western countries, but I chose the U.S. because I was told I would have freedom and it sounded very nice. But Salt Lake City was a cultural shock. It was completely flat, had no art, and there was not any kind of connection with it for me. That was very hard. I finally decided to go to San Francisco, after checking out several of the cities. San Francisco is multicultural, similar to European cities, and the weather is fantastic.
You at first tried applying on your own—what was that experience like?
The rules are complicated to follow. People give up and our society is losing lots of good inventions that can never appear on the market that way. That's why the Patent Pro Bono Program is a great way to help advance our society.
I try to do everything myself first if I can, but the main issue was a financial one. The language they require you to use was very complicated, but hiring a lawyer to do it for me was very expensive and I couldn't afford it at all. I created all the drawings myself, but every time I contacted the examiner, there was always some technical detail missing. They were really small, technical problems. I was kind of stuck, but my fiancée and I got information about California Lawyers for the Arts and contacted them, and they searched for pro bono lawyers who could help us for low cost or no cost. They put us in touch with Scott Pojunas after we'd been working with the USPTO for a long time already.
What happened once Scott took over the case?
He got the patent in about two weeks for us. When I was trying to do it myself, it was about two and a half years altogether going back and forth. He grabbed the mandala, went to the examiner's office and showed it to her. He just had to change some of the wording.
Were you confident that your invention would qualify for a patent?
I was sure it was novel enough. I had been searching myself online and in the USPTO library to see if it was patentable and if something like it existed on the market before. Every professional who had access to the patent application was very sure it was patentable and a good idea.
Has having the patent helped sales?
Yes; when people know it's patented, it's a very big help. Many people ask if I made it myself and when I tell them I did, they say, "Oh, you have to patent it, it's a very good idea." When I tell them it already is, they're very impressed.
What advice would you give to other artists or small inventors who want to patent something, but might not know how to begin?
I would encourage them to try to find some help. There are artists out there, who, like me, may want to do things themselves, but the patent language is very arcane and the rules are complicated to follow. It would be helpful if those rules were changed somehow, because people give up and our society is losing lots of good inventions that can never appear on the market that way. That's why the Patent Pro Bono Program is a great way to help advance our society.
---
Scott Pojunas, Hewlett Packard Enterprise (HPE)
How and why did HPE become involved with the Patent Pro Bono Program?
HPE has a long tradition of pro bono work, but we've historically been most involved with non-IP pro bono matters. My colleague, Gail Su, saw the opportunity for us to create an IP-focused pro bono program and contacted California Lawyers for the Arts, which is the local organization implementing the Patent Pro Bono Program for California. Gail started the program internally and we got quite a bit of interest from our patent attorneys. To help us implement the program, we also partnered with attorneys at law firms, including Dan Ovanezian at Lowenstein Sandler.
How did you choose Mr. Zbigniew "ZB" Doroszkiewicz's case?
Gail periodically circulates a list of available cases. I reviewed the cases, the scope of the inventions, and the file histories, and ZB's case jumped out at me as especially interesting. The description ZB had written looked very good, but I could see he had encountered some issues with the formalities of the patenting process. It looked like a great opportunity to get involved and help ZB get the application back on track.
What was your impression of the invention itself?
A relatively ordinary case for attorneys can be extremely difficult or frustrating for someone who doesn't have legal and technical training.
I thought it was really innovative. Early on, ZB sent me a model of the mandala and I hadn't seen anything like it before. It's made out of over 50 pieces of metal wire, and it's able to shift between countless different shapes. The way ZB figured out how to connect the wires in a way you can transform the mandala into so many shapes is really impressive.
What was Mr. Doroszkiewicz's state of mind when you first spoke with him?
ZB mentioned that he was frustrated and even disheartened. He had done a nice job explaining his invention with the description and figures, but there are a lot of additional legal requirements. He had struggled during the process with the formalities, such as the claims and some of the more arcane requirements about the description and figures. ZB had a few discussions with the examiner, but eventually was facing a final rejection and was having a difficult time working through these issues. ZB is very smart and got very far along in the process, but he reached the point where he needed help from an attorney or patent agent to get his patent granted.
How quickly were you able to resolve the problems?
Fortunately, we were able to resolve the issues pretty quickly. I live in the Washington, DC area, so I went to the Alexandria headquarters of the USPTO and met with the examiner and her supervisor. They were very helpful and wanted to help ZB get his patent granted. I showed them a model of the mandala, pointed out the key parts in the patent application, and explained how ZB's invention distinguished over the prior art. Dan and I submitted an after-final amendment and the application was allowed soon after. It's somewhat unusual for an examiner to allow a case at the after-final stage, but our discussion was very productive and we were all on the same page when I left the interview.
Are there things you think the USPTO could do better in terms of working with independent inventors?
The examiner was very helpful and had numerous calls with ZB, but at a certain point she just didn't have enough time to continue helping ZB. Examiners are very busy and under a lot of time pressure, so it's not always practical for them to work very closely with pro se inventors. One thing the USPTO could do, which I know they're working on, is to identify situations when inventors are struggling and then suggest various avenues of getting legal assistance, including through the Patent Pro Bono Program. If the USPTO and IP community continue to raise awareness of this program and make it clear that there are options for financially under-resourced inventors to get professional assistance for free, it would help many other independent inventors like ZB.
What have you taken away from the experience?
It was a reminder that the patent process is complicated and that a relatively ordinary case for attorneys can be extremely difficult or frustrating for someone who doesn't have legal and technical training. It also served as a reminder to dedicate my time, not just to patent pro bono, but to many other worthy pro bono causes. Just giving a little bit of our time can make a significant difference.