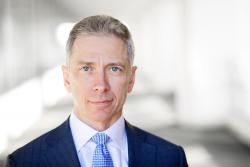 IPO EDUCATION FOUNDATION PRESENTS THE 2019 IP CHAMPION
IPO Education Foundation presents the 2019 IP Champion award to Director Andrei Iancu. Director Iancu has led the United States Patent and Trademark Office for a year and a half. Despite his short tenure, he has shown extraordinary leadership in advocating for the value of intellectual property to stimulate progress in innovation. Through numerous speeches, testimony and interviews with mass media, he has vigorously advocated restoring the strong, reliable U.S. patent rights needed to boost incentives to invent and invest in leading the world in emerging technologies.
Join IPO Education Foundation to celebrate Director Iancu at the 12th annual Awards Dinner on December 12 at the National Building Museum in Washington, DC! For questions about sponsoring the event, please contact Foundation@ipo.org.