IPO Education Foundation Announces New Public Awareness Program!
The IPO Education Foundation is partnering with the USPTO and the GSCNC on the Girl Scout Intellectual Property Patch.
All Girl Scouts have the opportunity to participate in this program, encouraging girls to enter STEM (Science, Technology, Engineering, and Math) careers familiarizing them with the patent process and invention.
The patch is available for purchase at a local GSCNC shop. For those outside the GSCNC area, the patch can be purchased by calling the GSCNC Shop at 202-274-3312 or 800-523-7898 ext. 248.
Download the IP Patch Curriculum!
Find an IP Professional to Help Your Troop Earn the Patch!
Check out the IP Speaker Search tool. IPO members, corporate and law firm IP attorneys, are willing to volunteer their time to help your girls earn the patch. Search our database to find a professional near you!
IPO Members, get involved by volunteering to speak or serve as a mentor at a local troop meeting or event! 
Sharing your story as an intellectual property professional or your experience with the process would be invaluable to young women in their pursuit to understand and appreciate the intellectual property system.
Sign up as a volunteer IP Speaker so troops in your area can contact you directly.
In the Washington, DC area, follow these instructions to sign up with the Girl Scout Pixie List to connect with a troop in the GSCNC area.
To learn more about this program, contact our office at 202-507-4500 or Foundation@ipo.org. 
Thanks to those organizations that have hosted events to help girls earn the IP Patch: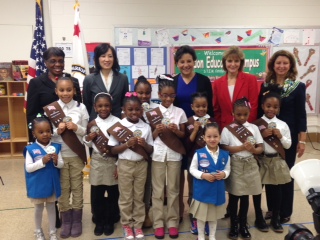 Girl Scouts from the Langdon Education Campus were the first to earn the IP patch. They received their patches from USPTO Deputy Director Michelle Lee, U.S. Secretary of Commerce Penny Pritzker, and USPTO Commissioner for Patents Peggy Focarino. 
To make a donation in support of IPO Education Foundation programs, click HERE.